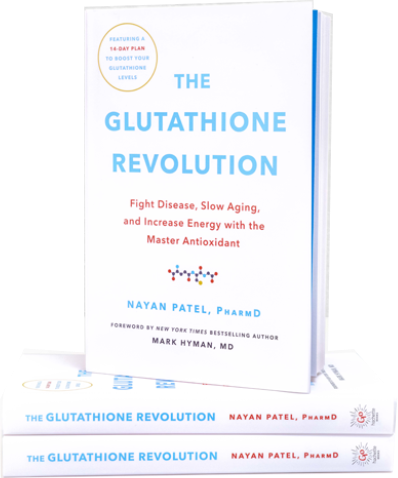 The Glutathione Revolution
Glutathione Revolution About the book
Dr. Nayan Patel has been studying Glutathione for decades and shares the many noticeable health benefits of detoxifying the body of existing free radicals with GSH in The Glutathione Revolution.
Glutathione is produced naturally in your body and is involved in just about every function in the body. It repairs and protects the body by boosting existing antioxidants and limiting oxidative stress. It is part of immune system function, tissue building and repair, increases energy, reduces inflammation, and improves brain health.
The Glutathione Revolution addresses how to boost Glutathione levels and revitalize the body with this naturally occurring Master Antioxidant. It includes action plans to kick the body's Glutathione-making machinery into gear and the safest and most effective GSH supplements.
The Glutathione Revolution contains a wealth of practical information to tailor to your own life and health concerns to harness the power of Glutathione.
Explore the benefits of Glutathione
THROUGH THE GLUTATHIONE REVOLUTION
The Author
Dr. Nayan Patel
Dr. Patel is an internationally recognized expert, consultant, and lecturer on the Master Antioxidant Glutathione and has traveled the world educating practitioners and pharmacists on advanced biochemistry and antiaging science. A pharmacist for over three decades, Dr. Patel has been a leading Glutathione researcher, exploring how essential Glutathione is to the body's detoxification system and how to increase the body's levels naturally. He founded Auro Wellness in 2011 to create products to help the body function at an optimal level and reduce the long-term impact of stress on the body. Through his research, Dr. Patel stabilized Glutathione, improved absorption, and increased its effectiveness with the Auro GSH™ Antioxidant Delivery System.
Dr. Patel received his PharmD degree from the USC School of Pharmacy, where he now serves as an adjunct faculty member.
Praise for The Glutathione Revolution
"We have long known that glutathione (GSH) plays an integral role in detoxing our systems and helping to prevent disease. But by we I mean the medical establishment; unfortunately, very few people have ever heard of glutathione. So I'm grateful that in this book pharmacist and researcher Nayan Patel is not only bringing glutathione to wider attention, he is also helping us understand how it works, where the GSH research has been— and where it's heading— and most important, how we can get more of it."
"Enhancing glutathione essentially provides the "keys to the kingdom" as it relates to health and disease resistance. And you absolutely have the ability not only to increase your glutathione levels but enhance its functionality as well as Nayan Patel so eloquently describes in The Glutathione Revolution. These are recommendations that anyone can implement to harvest the health benefits of this life-supporting molecule."
"A beautifully written treatise on this highly under-appreciated yet vital partner in health, the "superantioxidant" glutathione. Nayan Patel takes us on a compelling journey that simultaneously guides the reader through concepts of biochemistry, physiology, immunology, and sports medicine, all tied together with stories that enhance our understanding of this amazing protein and its role in health and disease. Dr. Patel self-identifies as the 'glutathione guy' at the end of the book, but I came away feeling like an expert on the subject, as you will too."
"In my fast-paced world of rapidly evolving technology, from quantum computing to space exploration, the human body and its systems still remain mysterious. Yet understanding our bodies means harnessing our greatest tool to help us become the best versions of ourselves. I have been intrigued by the role of glutathione as a key tool in the arena of achieving optimal and systemic health— unlocking function at our highest human potential. As a believer in continuing our education and evolution as humans, I was greatly encouraged and excited to learn from Dr. Patel's much needed comprehensive book on glutathione, supporting the quest to learn everything we can about this unrivaled and life-giving superantioxidant. Cheers to a bright future full of space travel, better lives on Earth, and plenty of glutathione!"
"I am so pleased Dr. Patel has put together a cohesive book on the current research and benefits of glutathione! 30 years ago I started as an ER physician, then specialized in laser medicine, then evolved into Integrative Medicine, and now specializing in Regenerative Medicine. At each stage of my development the importance of glutathione as a fundamental component of health and well-being has been reinforced. We offer and utilize glutathione IV pushes and other IV nutrition solutions at my AMA Regenerative offices in Orange County and Beverly Hills, CA, and am thrilled to offer more glutathione resources to my patients!"
"In the era of unheralded biological hazards and everyone adjusting to the 'New Normal' with the COVID pandemic and with daily stressors, The Glutathione Revolution, is a triumph inked by pharmacist and researcher, Nayan Patel, with the aim to 'Add Life to Years and not just Years to Life'. This deep dive into the science of glutathione will set a rave in the world of anti-oxidants. This masterpiece, with simple and easy to follow action plans for detoxing, will unleash the secret of being healthier, looking younger and adopting a healthy lifestyle with glutathione. Truly impeccable approach!"
"How else should I say this, then to simply state the obvious—The two most metabolically active organs in human physiology are the liver and brain—and it so happens that these two organs generate and utilize more glutathione than any other organs. The challenge has always been how to supplement our bodies with glutathione—even the best and purest sources are not easily absorbed orally, necessitating a visit to your doctor for IV treatment. Now, with Dr. Patel's proprietary technology for topical absorption, everyone can have optimal glutathione levels every day!"
"Pharmacists help people live better, healthier, safer lives. I have focused my career toward this credo of our profession. I am proud to acknowledge and endorse Pharmacist, Dr. Nayan Patel's seminal work on one of our body's most intriguing substances, glutathione. This book foretells a revolution in focusing on healthy behaviors for maximizing the stores of this invaluable personal biological asset. The book is a gift of knowledge, encouragement, and hope to humanity. Thank you, Nayan, for your kindness in researching and authoring it. Here's to better health!"
"How exciting it is that my distinguished colleague Dr. Nayan Patel has produced this book on one of the most fascinating nutrients – glutathione! In this valuable new volume, he clearly presents solid, up-to-date scientific information about glutathione and its benefits for health and anti-aging. Equally, however, he presents his evidence in a lively and easy-to-understand format, using actual cases as illustrations. As a result, the reader is captivated by the subject and is eager to read more. We have long needed such a book. I am confident that, in reading it, our patients will learn much about glutathione in general and will discover many practical clues for optimizing their glutathione levels. Greater well-being and increased longevity will be the welcome result."
"This book is a complete game-changer when it comes to people's health. Having the lifestyle I do with non-stop filming schedules, business meetings, and endless traveling— I am so glad that I was exposed to the benefits glutathione a few years ago. But in a world where information comes hard and fast it is very difficult to decipher what works and what doesn't, what to take, and what not to, when it comes to your health. This book by Dr. Patel makes it a lot easier to decide—and the best thing to start with is glutathione. The secret is out, thanks to Dr. Patel and the wonderful book he has written!"
"The Glutathione Revolution book is the absolute need of the hour as we are seeing an increasing number of patients in the world suffering from ailments that can be prevented or remedied with the consumption of an antioxidant like Glutathione, especially when everyone is going through such stressful times. I am sure the book will play a significant role in creating awareness about this very important antioxidant that can benefit the world at large. Nayan, thank you for coming out with this very timely work and wish you all the best."
"In today's hectic fast-moving world, people striving for the right information and advice for their health should look no further then Dr. Nayan Patel's wonderful book on glutathione. The world needs to know the benefits of glutathione and by writing this book, Nayan has made sure that this happens. Great job."
Sign up now to receive a free download
SEE ALL VIDEOS ON YOUTUBE
CUSTOMER REVIEW RATINGS
Glutaryl
Have only been taking for 2 weeks now, 4 spritzs 2 × per day, so too early to tell any palpable difference yet. Excited, however, about its potential. Thank you.
George Turner Howard 111
Glutaryl+
I have been using the previous version since September. I typically get a cold around November or December and it's December 20th and feeling great. Also, this helps me with hangovers. If I drink more than 5 drinks, especially wine, I am out of commission the next day. If I take heavier dose night after drinking, feel 90% next day. Very surprised it works as well as it does. Give it a try after night drinking and you will buy more. Cheers.
Chad B
Glutathione Revolution
This is a comprehensive book on glutathione. It does a perfect job of taking the complexities of biological chemistry and simplifying it into very practical and useful terms. A much easier read than I thought it would be. This book has helped me improve my diet and lifestyle. I can feel a big improvement to my immune system. I highly recommend this book for anyone who wants to take their health seriously, which is important now more than ever before.
Dave
Glutaryl+
I am 51 years old, and last year in addition to going through menopause, I was diagnosed with Grave's Disease, an autoimmune disorder where the body attacks the thyroid. In addition to adding a fasting routine to my diet, based on my doctors recommendation, I began using Glutaryl+ as part of my healing routine. After three months of using Glutaryl+, my autoimmune numbers went down to a point that I no longer needed the autoimmune medication to keep the thyroid in balance. This product truly works! I will continue to use this product off and on as part of a healthy maintenance routine. Definitely recommend!
Mary B.
Glutathione Revolution
We just received our copy and can't put this book down! It's so great to feel like we are understanding the biology behind why and how glutathione is SO important. The metaphors explaining how glutathione works so that non-medical people can grasp it are super helpful! We've been believers in glutathione for years but didn't quite understand how vast it's needs and roles were in our bodies. Love all the personal stories too!
R. Stancato